10 Years of UrbanRail.Net
In 1995, Robert Schwandl designed his first web pages, dedicated to the Metro of Barcelona, the city where he lived from 1989 until 2001. If you want to see what the original pages looked like, click here: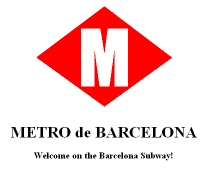 Around 1997, the website became larger by adding a section for each metro network in Europe: euroMetro was born!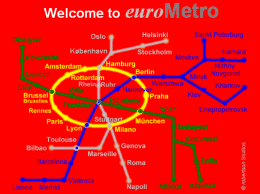 The next step was not surprising > since 1999 all metros around the world have been covered and the website became metroPlanet, with special sections called euroMetro, ameriMetro, asiaMetro, afriMetro and australMetro: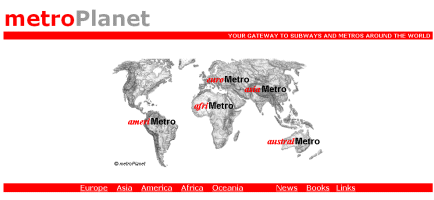 To say good-bye from Barcelona he wrote his first ever book "Metros in Spain" published by Capital Transport in London in 2001.
After having moved to Berlin, Germany, in 2001, he added still another section in German about metro and light rail systems in this country: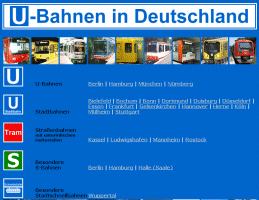 In 2002, Robert Schwandl founded his own publishing company metroPlanet, and released the "Berlin U-Bahn Album", followed soon by the "Berlin S-Bahn Album" and similar books about Hamburg, Hanover, the Rhine-Ruhr area, Cologne/Bonn, as well as about metros in Scandinavia. Click here for more details.
In early 2004, metroPlanet had to be renamed because the world's fifth largest retailer (named after our beloved transport system) based in Germany claimed that the former name would infringe their registered trademark and Mr. Schwandl didn't have the financial resources to sort this out in court. Fortunately, the new name UrbanRail.Net has become as popular as the previous name. At the same time also the publishing company was renamed, now being called simply Robert Schwandl Verlag.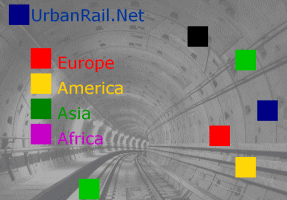 And finally, in 2005, Mr. Schwandl opened his own online shop schwandl.com where you can purchase books about metros and other urban rail transport around the world.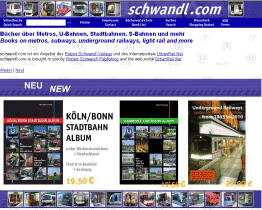 From 2008, Mr. Schwandl began to gradually add conventional tramway systems to the European section, thus living up to the expectations created by the comprehensive title of the website 'UrbanRail.Net', which certainly also includes this type of transport system.
---
This page was inspired by Mr. Felix Thoma.
Dec. 2005 © UrbanRail.Net (R. Schwandl) Mail