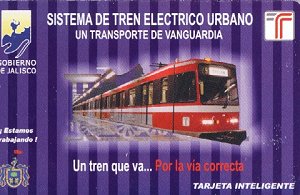 Guadalajara, the capital of the Mexican state of Jalisco in the centre of the country, is Mexico's second largest city. As traffic congestion got heavier it was inevitable to build an efficient mass transit system. Instead of a heavy metro network like the one operating in Mexico City, Guadalajara began developing a light rail system which runs underground for most of its length.
The first line was inaugurated in 1989 and runs below Avenida del Federalismo, a broad avenue built through the historic centre in the 1970's. Today the network counts two lines, Line 1 runs north - south and Line 2 east - west, although currently only the eastern part of this line is in operation.
Whereas Line 1 (originally 15.5 km, 7 underground and 12 surface stations) runs partly on the surface on separate right-of-way and with some level crossings along Av. Colón, Line 2 (8.5 km - 10 stations, 1994) is totally underground and thus completely segregated from other traffic. All stations on Line 1 have recently been refurbished in order to improve safety for passengers. At the transfer station Juárez an art gallery was incorporated into the station complex.
The Guadalajara metro is operated by SITEUR. The metro carries some 50 million passengers a year. During rush hours there are 20 trains in operation, 12 on Line 1 and 8 on Line 2. Whereas on Line 1 stations were originally prepared for 4-car-trains only (60 m), on Line 2 ten-car-trains (148 m) can be used; by 2018, platforms had been extended on Line 1 to allow the use of 6-car trains. Although only half the length, Line 2 carries almost the same number of passengers as Line 1. A trip on Line 1 takes 30 minutes and on Line 2 15 minutes.
29 years after its inauguration, Line 1 was extended north to Auditorio (1 km). At the same time, the present northern terminus was put underground and at all stations, platforms were lengthened for the use of 90m trains.
In 2014, tenders were invited for the construction of Line 3: The 19.8 km route runs on a northwest-southeast alignment, with some three-quarters of the route elevated (8.2 km northern section; 6.5 km southern section), and just over 5.1 km in tunnel in the city centre.