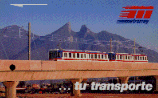 Monterrey, the capital of the Mexican state of Nuevo León, has some 4 million inhabitants.
In the 1980s, a consortium led by Siemens was awarded the contract to develop a metro system for Monterrey. The system is similar to the Tren Urbano in Guadalajara, although Monterrey's metro is totally independent from other traffic, partly underground and partly elevated.
Line 1 was inaugurated in 1991 and runs east - west through the city centre and then towards the northwestern districts of the city. It runs on an elevated concrete structure from Exposición in Guadalupe to San Bernabé. Its length is 18.5 km with 19 stations. At Cuauhtémoc transfer is possible to Line 2. A trip along the entire line takes 27 minutes.
Line 2 opened in 1994 and was then 4.5 km long with 6 stations. It was built along a north-south axis at a depth of 17 m below street level mainly by using tunnelling machines. Construction on a northern extension began in August 2005. The total length of the extension is 8.5 km with 1.5 km in tunnel and the rest elevated. The first section (3.2 km, 3 stations) along Avenida Universidad was opened in October 2007, with the remaining 5.3 km following one year later (4 stations).
Line 3 opened in Feb 2021 on a 7.5 km mostly elevated structure running from the Line 2 terminus at General I. Zaragoza northeast to Hospital Metropolitano - lines 2 and 3 are operated jointly as one single line.
All stations and trains have air-conditioning, some stations on Line 2 are equipped with escalators. Like in Mexico City, stations can also be identified by symbols. The metro is operated by Metrorrey.