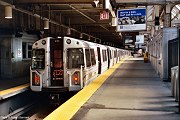 PATH, one of the faster metro systems in the United States, has its origins in the Hudson River Tunnel Railroad founded by DeWitt Clinton Haskin and Trenor W. Park in 1874. A court injunction was obtained by the local ferry company, and work on the project finally commenced five years later. Less than a year after that, 20 workers were killed when the tunnel flooded. At the beginning of 1881, construction was resumed but repeatedly stopped while an injection of money was sought after. In August 1891, the company went bankrupt and finally the north tunnel of the north crossing was completed in 1904. The next year, the south tunnel was opened. In 1908, service began on the line, with the southern river crossing opening in 1909.
History
March 11, 1904- The westbound tunnel of the northern Hudson River crossing was completed
September 25, 1905- The eastbound tunnel was finished
February 25, 1908- Service begins Hoboken-Christopher St?
July 19, 1909- New Jersey section and southern crossing opened
1910- Christopher St?-33rd St
1962- The Port Authority of New York and New Jersey renames the Hudson and Manhattan Railroad 'PATH'
September 11, 2001- Service suspended from Grove St- World Trade Center
November 23, 2003- Service fully reopened to World Trade Center
A new station is under construction at World Trade Center, where a temporary station is currently in service.