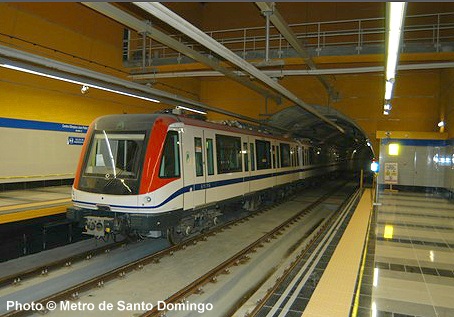 The originally planned metro line had an extension of 10 km, with 11 stations, running below Av. Maximo Gomez mainly in a north-south direction, all underground. The project was then modified due to objections made by the city, and the line eventually became 14.5 km with 16 stations. Instead of using the names of intersecting road, the stations were named after national personalities.
After construction had started in 2005, trial service was offered from 22 Dec 2008 to 06 Jan 2009, before an official inauguration took place on 29 Jan 2009.
30 Jan 2009: Mama Tingó - Centro de los Héroes (start of revenue service)
Elevated stations running along Hermanas Mirabal Ave:
1. Terminal Station "Mama Tingo" - Marañón
2. "Gregorio Urbano Gilbert" Station - La Paz
3. "Gregorio Luperón" Station - Buena Vista II
4. "José Francisco Peña Gómez" Station - Los Guaricanos
5. "Hermanas Mirabal" Station - Mirador Norte Park
Ground level station at Máximo Gómez Ave.:
6. "Máximo Gómez" station - La Isabela
Underground stations below Maximo Gomez Ave:
7. "Los Tainos" Station - at Nicolas de Ovando Av.
8. "Pedro Livio Cedeño" Station - at National Cemetery (Cementerio)
9. "Peña Batlle" Station - at Peña Batlle St.
10. "Juan Pablo Duarte" Station - at John F. Kennedy Ave. (interchange with east-west Line 2)
11. "Prof. Juan Bosch" Station - at 27 de Febrero Ave. (future interchange with east-west Line 3)
12. "Casandra Damirón" Station - at Teatro Nacional (National Theatre)
13. "Joaquín Balaguer" Station - at Santiago St. (across the Education Ministry, previously called Educación)
Underground stations below Correa y Cidron Ave:
14. "Amin Abel" Station - at University of Santo Domingo (previously Universidad)
15. "Francisco Alberto Caamaño" Station - at Abraham Lincoln Ave.
Underground stations below Jimenez Moya Ave:
16. Terminal Station "Centro de los Héroes" - (Feria)