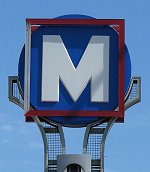 The St. Louis MetroLink is a light rail line which runs on independent right-of-way for all of its alignment, although with several level crossings. The original line, which opened in 1993 (27 km), starts in East St. Louis, Illinois, and crosses the river Mississippi on the historic Eads Bridge built in 1874. After Laclede's Landing it enters a former railway tunnel which hadn't been used since 1974. It continues partly underground on a new alignment to Union Station (former railway station - now a shopping centre) and finally along the former Wabash railroad towards the northwest and into the Lambert airport grounds.
In 1994 an extension was approved through Saint Clair County in Illinois. The first 28 km stretch from 5th & Missouri to Southwestern Illinois College in Belleville opened in May 2001, followed by a 5.6 km stretch up to Shiloh-Scott in June 2003. Apart from some new stretches the former CXS rail alignment is used.
The next extension was a 12.8 km branch off Forest Park station towards the southwest through Clayton to Shrewsbury, the so called Cross County Extension. It includes some underground sections (Skinker, University City/Big Bend and Forsysth stations, the latter partly open on one side). With construction having started in April 2003, regular service on this branch began on 28 Aug 2006. Trains from Shrewsbury normally operate through the city centre and terminate at Fairview Heights in Illinois.
MetroLink is operated by Bi-State-Development-Agency, now simply 'Metro', and has a total length of 73.3 km. One light rail car has a capacity of 72 passengers seated and 106 standing.