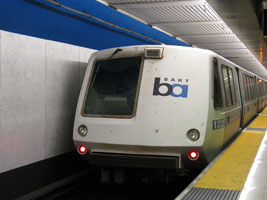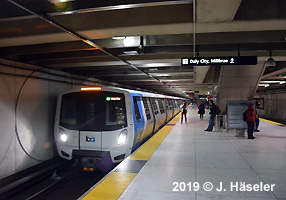 BART (Bay Area Rapid Transit) is a modern rapid rail system (30 km underground in downtown San Francisco Oakland and Berkeley) which crosses the Bay in a 5.8 km long immersed-tube tunnel and serves surrounding cities like Berkeley, Oakland and Richmond in the counties of Alameda, Contra Costa, San Francisco and San Mateo. Its construction began in 1964 between Concord and Walnut Creek, and the lowering of the transbay tube and the excavation of the Market Street subway in downtown San Francisco followed in the late 1960's and beginning of the 1970's. Along Market Street, BART trains run on level -3, while level -2 (once planned for another BART line) is now used by Muni Metro, an urban light rail system.
The first BART cars were ordered from the California based Rohr Industries, with later series being delivered by Soferval (Alsthom) and Morrison-Knudsen. BART is totally grade-separated (no level crossings) and runs in ATO mode without any wayside signalling. It has an unusual track gauge of 1,676 mm (5 ft 6 in).
The first stretch opened for public service on 11 September 1972 between Oakland and Fremont. In 2017, the entire network has a total length of 182 km long, with 48 stations serving some 3 million people in the area:
- 26.5 km runs in subways through urban areas (8.9 km in San Francisco; 8.6 km in South San Francisco/San Bruno; 4 km in Oakland; 5 km in Berkeley);
- 5.8 km (7.4 km with approach tunnels) underneath the San Francisco Bay at a maximum depth of 41 m below sea level;
- 5.5 km is the Berkeley Hills tunnel between Rockridge and Orinda;
- 14 stations lie on the San Francisco peninsula, and 30 on the East Bay side;
- 16 stations are underground, 15 elevated and 14 at grade (all fully accessible to the disabled).
The BART system is operated 6 lines:
Blue Line: Dublin/Pleasanton - San Francisco - Daly City
Yellow Line: Pittsburg/Bay Point - San Francisco - San Francisco International Airport (SFO)
Orange Line: Richmond - Berryessa/North San José
Red Line: Richmond - San Francisco - Daly City (extended to Millbrae early mornings on weekdays)
Green Line: Berryessa/North San José - San Francisco - Daly City
Purple Line: San Francisco International Airport (SFO) - Millbrae shuttle
Opened on 22 Nov 2014, the "BART to OAK" people mover provides a link between BART's Coliseum station and Oakland International Airport. A ride on the 5.1 km cable propelled system takes 8 minutes, with trains running every 5-20 minutes.
Instead of a proper BART extension, the Pittsburg/Bay Point branch was eventually extended to Antioch (Hillcrest Ave) in spring 2018 using diesel multiple units (DMUs). A change of trains is therefore required at a dedicated platform built some 500m east of the Pittsburg/Bay Point station.