METRO
Wuhan, capital of Central China's Hubei Province and located by the Yangtze River, has some 11 million inhabitants. The city actually consists of three parts - Wuchang, Hankou and Hanyang - separated from each other by the Yangtze and the Han Rivers.
Line 1
In September 2004, Wuhan became the fifth Chinese city with a metro (after Beijing, Tianjin, Shanghai and Guangzhou). The first 10.2 km line (10 stations) is an elevated metro. It runs from Huangpu to Zongguan in the downtown area of the Hankou District, and it is the first one in the country to use a communication-based train control system, provided by Alcatel (SelTrac® S40 CBTC). The designed minimum interval is only 90 seconds between two trains and driverless operation. As of 12/2017, Line 1 (Hankou Line) has a total length of 38.2 km and 32 stations.
28 July 2004: Zongguan - Huangpu Road (test runs)
28 Sept 2004: start of revenue service on Line 1
29 July 2010: Dongwu Boulevard - Zongguan and Huangpu Road - Dijiao (except Zhuyehai station)
28 May 2014: Dijiao - Hankou North (5.7 km)
17 Sept 2014: Zhuyehai station added
26 Dec 2017: Dongwu Boulevard - Jinghe (3.6 km)
Line 2
60.8 km; Wuhan's second metro line runs from Hankou to Wuchang passing beneath the Yangtze River.
28 Dec 2012: Jinyintan - Optics Valley Square
28 Dec 2016: Jinyintan - Tianhe International Airport (19.7 km)
19 Feb 2019: Optics Valley Square - Fozuling (13.4 km)
Line 3
Wuhan's third metro line runs from Hankou to Hanyang passing beneath the Han River (30.1 km, 24 stations, all underground).
28 Dec 2015: Hongtu Boulevard - Zhuanyang Boulevard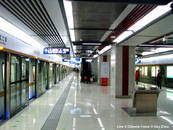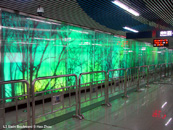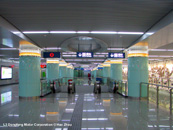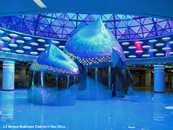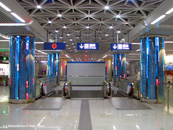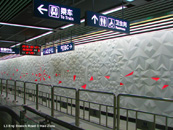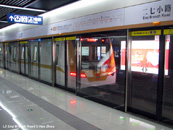 More Line 3 photos here!
Line 4
Wuhan's fourth metro line (actually the third to open) connects Hanyang and Wuchang Railway Stations to the new Wuhan Railway Station in the east; 48.6 km; 37 stations
28 Dec 2013: Wuhan Railway Station - Wuchang Railway Station (17.2 km)
28 Dec 2014: Wuchang Railway Station - Huangjinkou (15.4 km)
25 Sept 2019: Huangjinkou - Bolin (16 km; Caidian Line)
Line 5
Running from Wuhan Railway Station south along the east bank for the Yangtse River to Hubei University of Chinese Medicine, with the southernmost section elevated; 48.6 km; 37 stations
26 Dec 2021: Hubei University of Chinese Medicine - East Square of Wuhan Railway Station (34.6 km)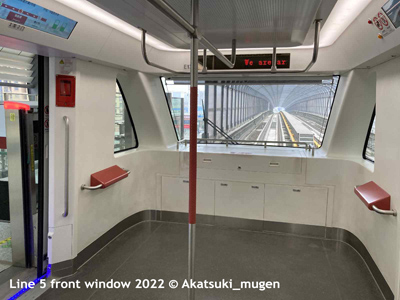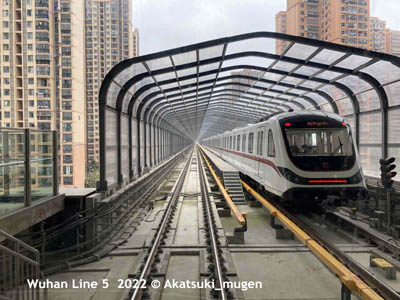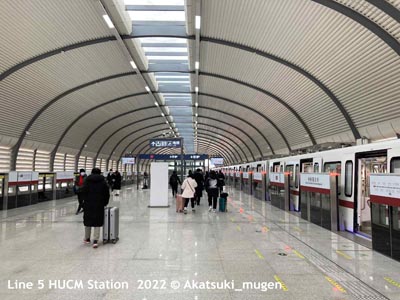 Line 6
43 km, 32 stations
28 Dec 2016: Jinyinhu Park - Dongfeng Motor Corporation (36 km)
26 Dec 2021: Jinyinhu Park - Xincheng 11th Road (7 km)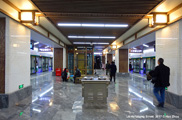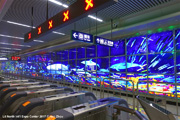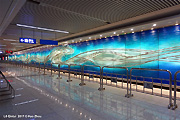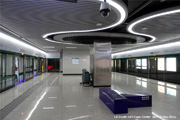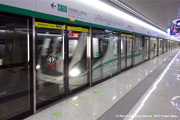 More Line 6 photos here!
Photos © Hao Zhou & Craig Moore
Line 7
69 km, 33 stations
01 Oct 2018: Garden Expo North - Yezhihu (30.9 km)
28 Dec 2018: Yezhi Lake - Qinglongshan Ditiexiaozhen (17 km)
30 Dec 2022: Garden Expo North - Hengdian (21.1 km)
Line 8
38.2 km, 26 stations, all underground: North-south line linking Hankou to Wuchang passing beneath the Yangtze River.
26 Dec 2017: Jintan Road - Liyuan (16.2 km)
06 Nov 2019: Yezhihu - Military Athletes' Village (4.8 km)
02 Jan 2021: Liyuan - Yezhihu (17.2 km)
Line 11
23.5 km, 14 stations
01 Oct 2018: Wuhan East (formerly Optics Valley) Railway Station - Zuoling (19.7 km)
02 Jan 2021: Zuoling - Gedian South Railway Station (3.8 km)
More Line 11 photos here!
Line 16
Suburban metro line along the west bank of the Yangtse River with some elevated sections; 35.9 km, 14 stations
26 Dec 2021: South International Expo Center - Zhoujiahe (31.7 km)
30 Dec 2022: Zhoujiahe - Hannan General Airport (4.2 km)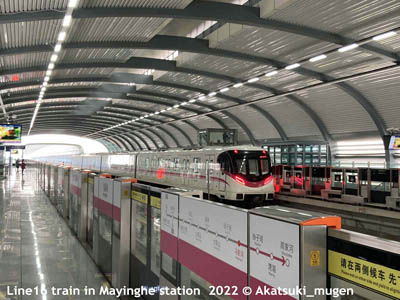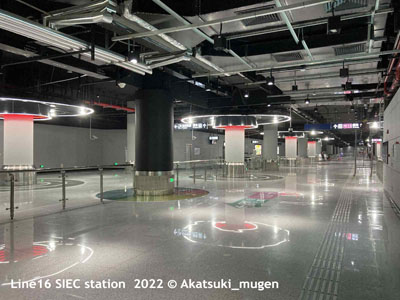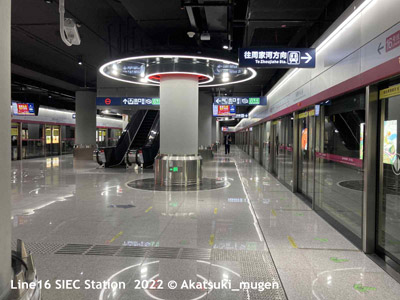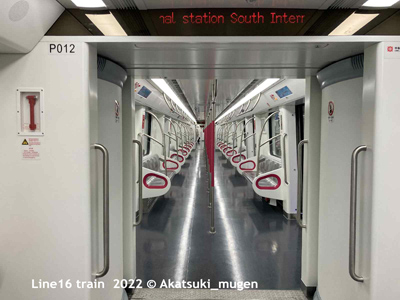 Yangluo Line
Suburban metro line - 35 km, 16 stations; from Houhu Boulevard to Shenjiaji underground, the rest is elevated.
26 Dec 2017: Houhu Boulevard - Jintai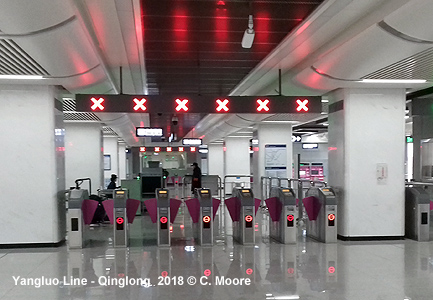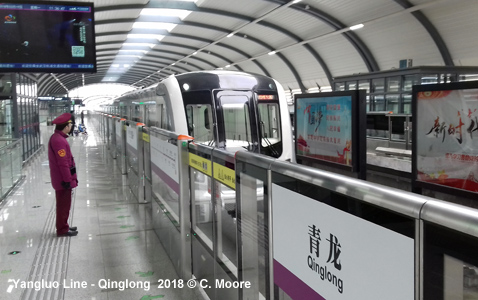 Projects
Planned network of 7 lines totalling 220 km to be built over the next decades. Most lines will be constructed underground.
TRAMS & LIGHT RAIL
Auto City T1 Line
Wuhan's first tram line (Auto City T1 Line) opened on 28 July 2017 in the southwest of the city as a logical extension of metro line 3.
28 July 2017: T1 Chelun Square - Deshenggang (16.8 km)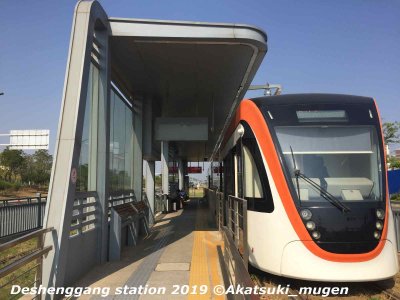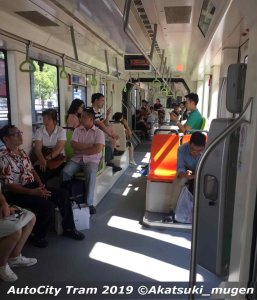 Guanggu Trams
With its elevated sections, including the two triangular junctions, the tram system in Guanggu (Optics Valley) southeast of Wuhan can be classified as a modern 'light rail' system. Although routes are shown as L1 and L2 (with a shared 2.5 km stretch), trams offer six direct services (colour-coded) between each of the four termini. After the first test rides with passengers started on 18 Jan 2018, the system eventually opened for regular service:
01 April 2018: L1 Huazhong University - Fuzoling (12.5 km)
01 April 2018: L2 Tangxunhu City Railway Station - Optics Valley Botanical Garden (19.6 km)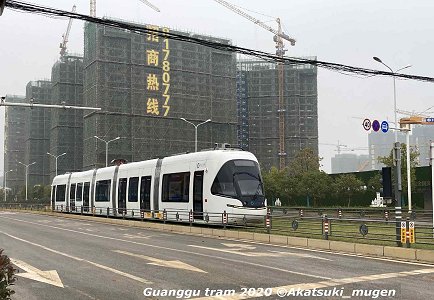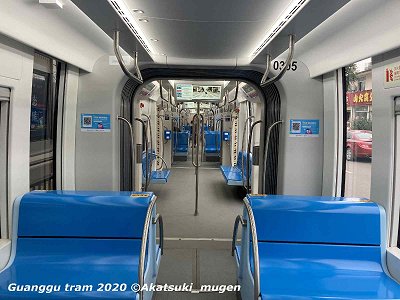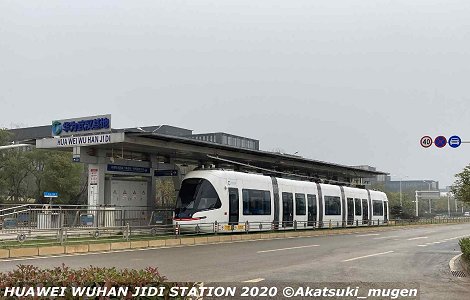 Links
Wuhan Rail Transit (Official Website)
Wuhan Metro at Wikipedia
Wuhan Metro Map at Johomaps
Wuhan Metro lines on Baidu Maps
Report
Some impressions sent by Craig Moore in Jan. 2017:
"What I find interesting in Wuhan is that they have some appealing station architecture and ornamentation but also that they have had several unambiguous phases of Metro development with real tangible change at each stage. Line 1 is super - like Beijing Line 1 and 2 and Shanghai Line 3, it just gets on with what it is supposed to do without pretending to be anything else - rough and ready and unsophisticated. Lines 2 and 4 are of the 'template' phase of construction in China, such lines being common across the country and although the lines here have some redeeming features, they are pretty standard in most cases. I went on the L2 extension toward the Airport and hoped that a 5-year gap in openings would bring much difference but the stations are just newer/cleaner versions of the original provision. Line 3 opened just over a year ago and the distinctness given to individual stations is more evident but then the real leap has come in the subsequent period.
Many of the lines opened across China in 2016 and now Line 6 here in Wuhan are more stylish with ornamentation at stations being quite different and it seems the designers have moved away from wanting to represent a westernised/efficient/smart style to one in which Chinese heritage is the main focus. Lots of motifs with scenes from Chinese history, lots of Chinese traditional design on platform pillars and ceilings; and also a bold use of calligraphy (which used to be played down in preference of the Latin alphabet). On the trains themselves, the use of dynamic strip maps and LCD displays is also very impressive. I really like this new confidence in their Metro design and Line 6 in Wuhan is a clear example of this change of style – some really nice stations particularly in the centre with CRRC stock and 6/7min headways. A very impressive line! Also to note that every other train heading north on Line 2 terminates at Jinyintan and headways from there to the airport (not very well patronised part of the line) is 10mins."