METRO
Indonesia's capital, Jakarta, is the centre of the wider urban metropolitan region known as Jabodetabek (Jakarta, Bogor, Depok, Tangerang, Bekasi). This area is one of the world's most populous (28 million/6343 km2) and has an extensive urban rail network.
Jakarta had a well-established suburban rail network by the 1930s but this deteriorated in the post-war period and eventually closed in the mid-1960s. Japanese financial support helped to revive suburban services in the 1970s and these have since been modernised and expanded, providing Jakarta with the largest such network in Southeast Asia. Metro type systems came later – a monorail project was abandoned in 2008, but the construction of metro and LRT lines began in 2013 and 2016 respectively, with operations starting in 2019. The current three rail systems are separately owned and operated, offering only limited inter-connectivity, although a transport authority for Jabodetabek is planned to support further integration.
MRT
Plans for a Mass Rapid Transit system had been considered from the mid-1980s, but only in 2013 did construction of the Jakarta MRT begin. Operated by PT MRT Jakarta, the first full metro in Indonesia opened in spring 2019, running from Bunderan HI, in the main commercial area, to Lebak Bulus in the southern suburbs. The 1067 mm gauge line has 1500 V DC overhead power supply, with a mixed underground (5.3 km) and elevated alignment. Nippon Sharyo six-car trains operate 10-minute headways. The metro is currently being extended 8 km north to Kampung Bandan in the old town (Batavia), with completion due in 2024/25.
Lebak Bulus - Bunderan HI; 15.7 km, 13 stations (6 underground and 7 elevated)
24 Mar 2019: Lebak Bulus - Bunderan HI (15.7 km) - free service (revenue service from 1 April 2019)
LRT
- Suffering many delays, the LRT Jakarta commenced operations in mid-2019, almost one year after its planned opening to serve the 2018 Asian Games venues in the Kelapa Gading area of Jakarta. Full service began in Dec 2019. Although branded as LRT this 1435 mm gauge elevated line is a light metro line, operating 10-minute headways with 2-car Hyundai Rotem trains.
Velodrome - Kelapa Gading Mall; 5.8 km, 6 stations
11 June 2019: Velodrome - Kelapa Gading Mall (5.8 km) (limited service; revenue service/Full operations from 01 Dec 2019)
---
- Since Sept 2015, the 42.1 km LRT Jabodetabek (Cibubur/East Bekasi – Cawang - Dukuh Atas) has also been under construction. The line will provide connection to MRT and suburban rail stations in central Jakarta with services expected to commence in 2022. [Project Website]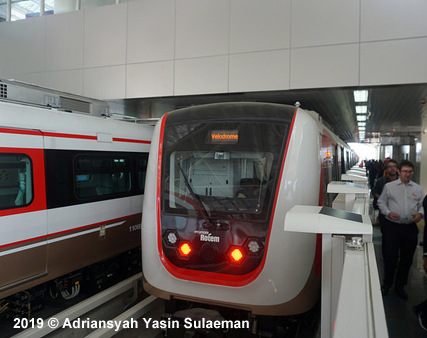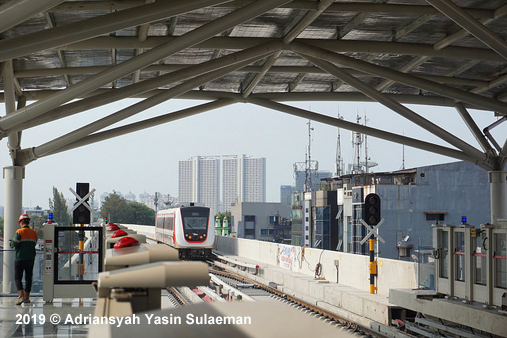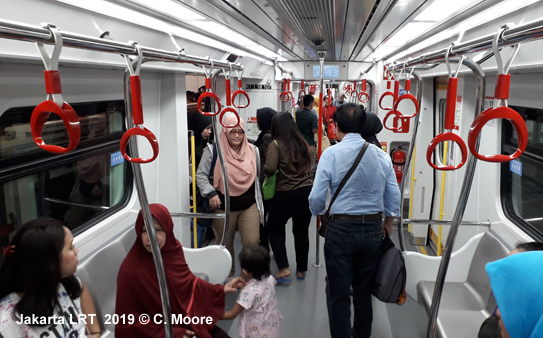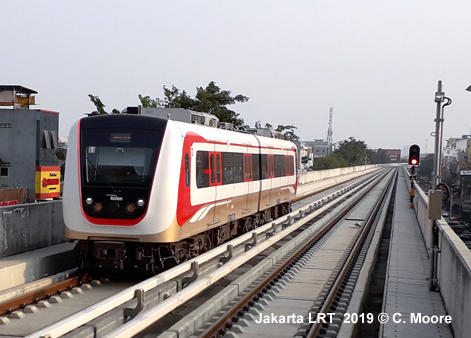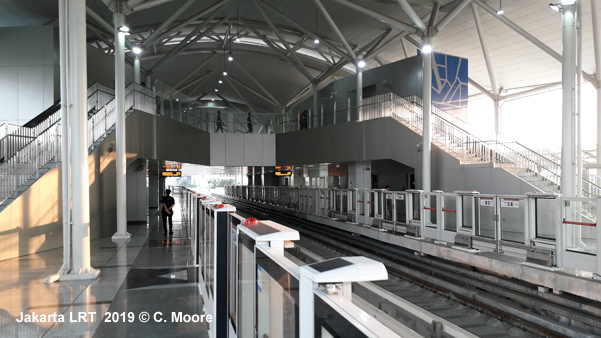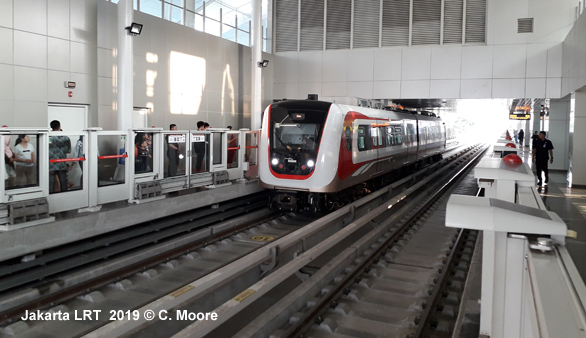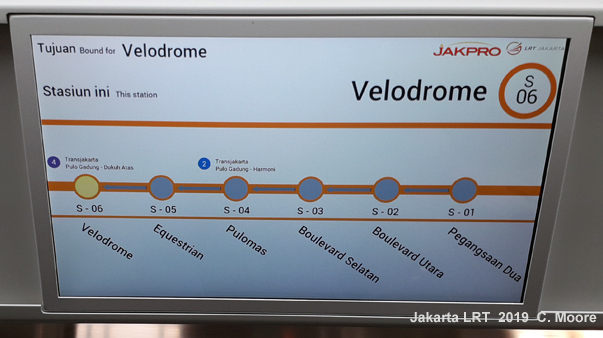 Projects
Commuter Rail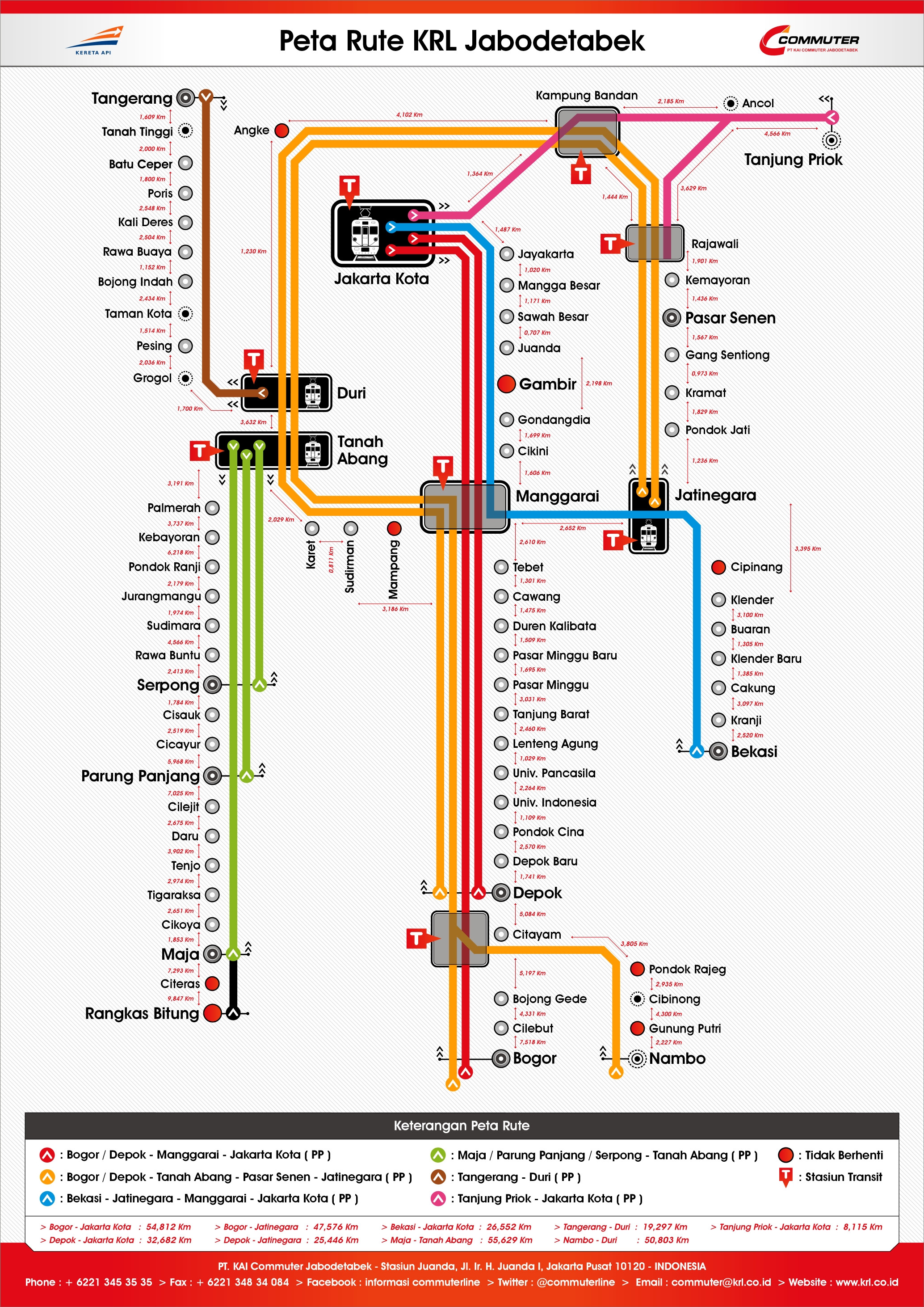 Operated by KCI, the 1067 mm gauge, electric suburban rail system has a chequered history but is now engaged in a phased modernisation and expansion programme and today consists of 205.8 km of route and 75 stations covering much of Greater Jakarta. Consolidated from almost 40 'point to point' routes, the current six-line network dominates urban rail provision in Jakarta, with a daily ridership of over 1 million. The KRL system operates 10/15-minute headways, supported by higher frequencies on duplicated/short stop services on main corridors. The network uses refurbished Japanese metro and suburban rail stock in 8, 10, and 12 car formations.
Click on map on the right to view original size!
Read Craig Moore's description of the KAI Commuter Rail system in this PDF!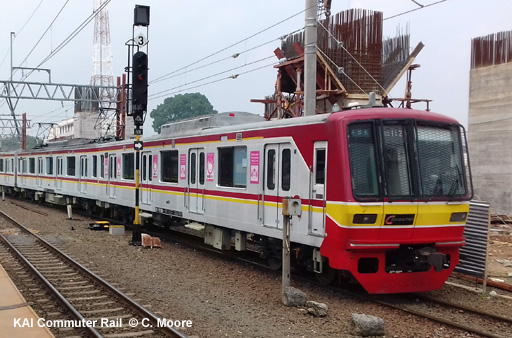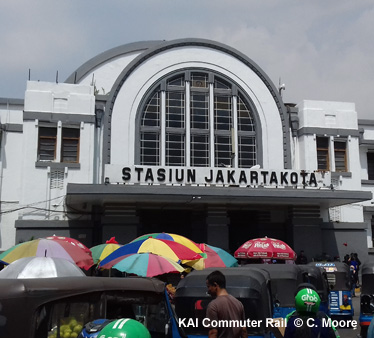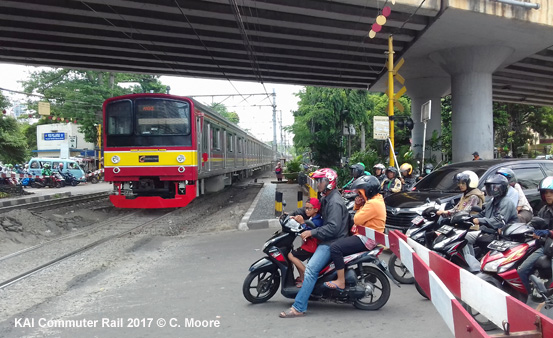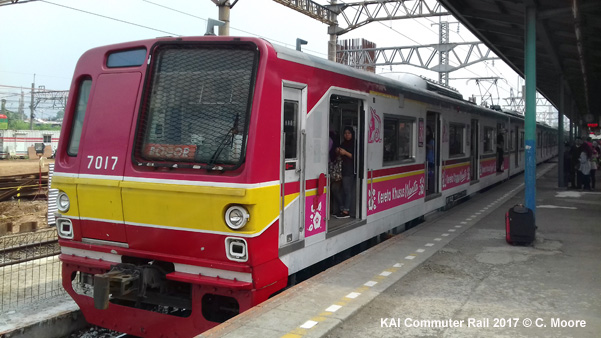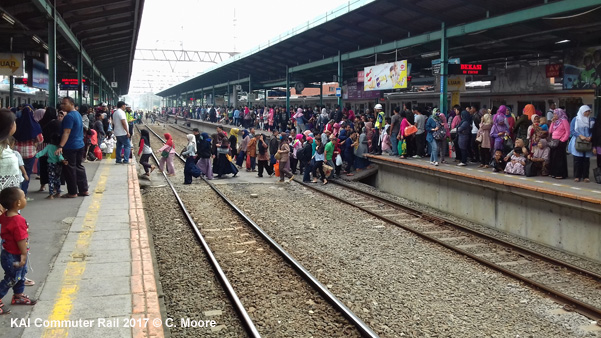 Airport Rail Link
Opened in Dec 2017, Railink operates services between the International Airport, BNI City and Manggari. With the exception of a 12.3 km section between the airport and Batu Ceper, the 37.6 km line operates on existing KRL infrastructure, with occasional scheduling conflicts and the need to reverse direction at Duri. Services run at 30-minute intervals with locally built 6-car INKA-Bombardier trains. The journey takes 50 mins and special fares apply. At SHIA station transfer to the free APM Skytrain is available. The South Korean Woojin trains shuttle between the Railink station and the three terminals (2.9 km) at 20/30-minute intervals.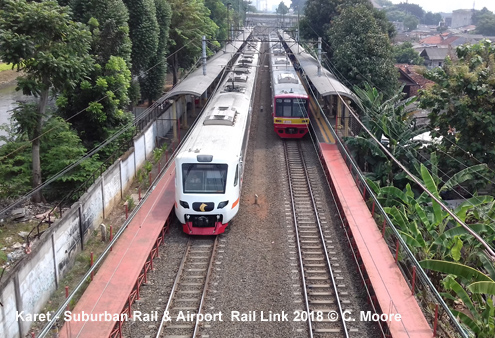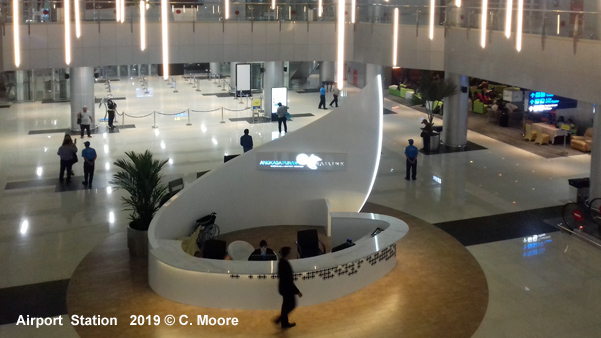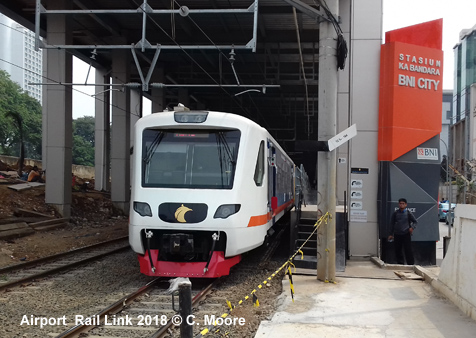 ---
Bus Rapid Transit
With TransJakarta, the Greater Jakarta area is served by one of the largest BRT systems in the world - see Wikipedia or the offical TransJakarta website!
Airport People Mover
Opened on 17 Sept 2017 between T2 and T3 and extended on 06 Dec 2017 to T1; the "Skytrain" links the three airport terminals to the railway station.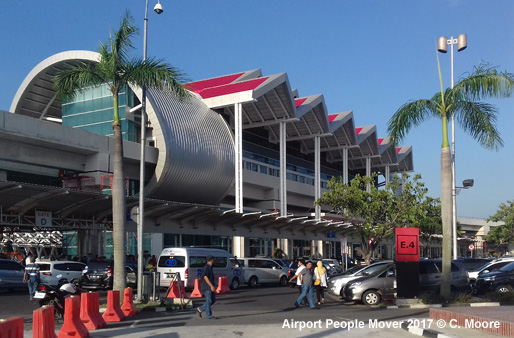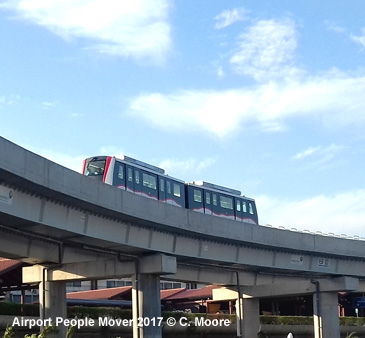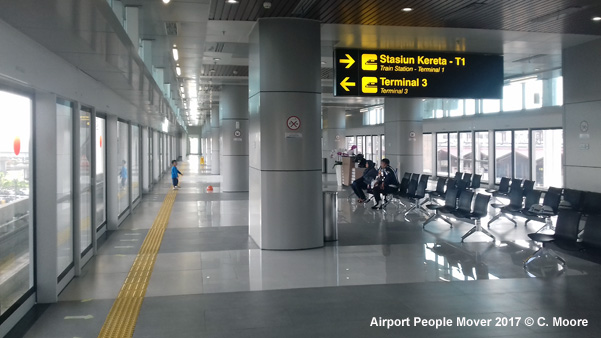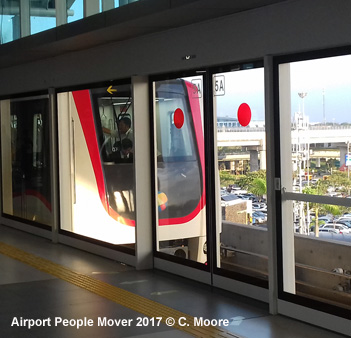 Links
Jakarta MRT (Official Site)
Jakarta Mass Rapid Transit at Wikipedia
Jakarta's Abandoned Monorail Project at Wikipedia
Commuter Rail (Official Site)
KA Commuter Jabodetabek at Wikipedia
Jakarta projects at Skyscraper Forum
Transport for Jakarta - Discussion Forum
MRT Impressions by Jani Patikallio