Click on map to expand to full Yokohama area!

SHONAN

Shonan, a region some 40 km southwest of Tokyo, including Enoshima, Kamakura and Fujisawa (~600,000 inh.); in Kanagawa Prefecture. The area is served by two urban rail lines, the Shonan Monorail and the Enoshima Electric Railway:

Shonan Monorail

- opened
27 March 1970: Ofuna - Nishi-Kamakura (4.7 km, 5 stations)
02 July 1971: Nishi-Kamakura - Shonan-Enoshima (1.9 km, 3 stations)
- suspended railway (like Chiba and similar to Wuppertal)
- 6.6 km line
- 8 stations


The Shonan Monorail joins the JR Tokaido Line station Ofuna in Kamakura-shi with Shonan Enoshima in Fujisawa-shi.

Enoshima Electric Railway (Enoden)

- light rail (500 m street-running in central Enoshima)
- 1067 mm gauge
- network length 10 km
- 600 V dc
- 1 line, single-track with 5 passing loops

Official Websites
Other Links

Enoshima Electric Railway at Wikipedia

Shonan Monorail at Wikipedia

BLOG: Read your webmaster's impressions of the Shonan rail systems (May 2016)
Book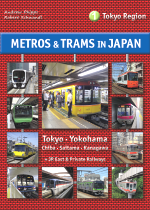 Andrew Phipps & Robert Schwandl
METROS & TRAMS in JAPAN - Vol. 1: Tokyo Region
Subways, suburban railways (JR East and Private Railways), trams, monorail and guided-transit systems in the Toyko conurbation - including Yokohama, Shonan, Tama, Saitama and Chiba
Text: German & English
160 pages, ca. 300 photos
Detailed network maps
June 2016
ISBN 978-3-936573-47-3
---
2011 © UrbanRail.Net by Robert Schwandl.