Gmunden (Upper Austria - 14,500 inh.)
Tramway- Traunseetram
- 1000 mm gauge, mostly single-track
- original length (Gmunden Bahnhof - Franz-Josefs-Platz) 2.3 km
- current length (Gmunden Bahnhof - Vorchdorf-Eggenberg) 18 km
Eventually connected to Traunseebahn via a new route through the town centre:
13-12-2014: Seebahnhof - Klosterplatz (230 m)
01-09-2018: Klosterplatz - Franz-Josef-Platz (620 m) with through service on Traunseebahn to Vorchdorf-Eggenberg
12-12-2021: Kirchham Sportplatz stop added
Robert Schrempf:
- Dec 2009, German/English, Robert Schwandl Verlag, Berlin, ISBN 978 3 936573 24 4; feat. Linz Tramway and Gmunden Tramway.
TRAM ATLAS SCHWEIZ & ÖSTERREICH
06/2014, Robert Schwandl Verlag, ISBN 3-936573-44-2 (More info) > 2nd EDITION 2014! Currently out-of-print! Sorry! See eBook below!
Detailed geographically correct maps of all Swiss and Austrian tram and trolleybus systems, illustrated with numerous colour photos and enhanced with basic data about routes, lines, rolling stock, etc.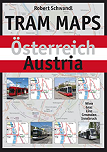 TRAM MAPS AUSTRIA now available as a Kindle eBook and Print-on-Demand edition
This e-book includes updated network maps (Feb 2022) of all the Austrian tram systems, and is a supplement to our "Tram Atlas Switzerland & Austria" (currently unavailable).