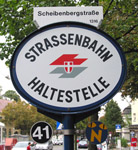 Wien (Vienna - capital of Austria - 1.8 million inh.) boasts one of the world's largest tram networks, plus the "Badner Bahn", a light rail line operated by Wiener Lokalbahnen which shares tram tracks between Bahnhof Meidling and Kärntner Ring/Oper.
Tramway
- 1435 mm gauge
- network length ~ 167 km (10/2020)
- 28 lines
- rolling stock: older high-floor trams E1 ((Lohner/SGP) and E2 (SGP/Bombardier) with trailers c4, c5; low-floor "ULF" types A (24 m) and B (35 m) (Siemens); Bombardier Flexity
There is an underground tram section between Hauptbahnhof (Südtiroler Platz) and Eichenstraße on tram route 18, with a short branch below Wiedner Hauptstraße (lines 1, 62 and WLB), and a southern ramp at Matzleinsdorfer Platz (lines 1 and 6). Part of the tunnel is also used by tram routes 1, 6, 62 and WLB (Badner Bahn). The underground tram system includes a total of 6 stations, Hauptbahnhof, Blechturmgasse, Kliebergasse, Matzleinsdorfer Platz, Eichenstraße and Laurenzgasse.
22 Dec 2012: Josef-Baumann-Gasse - Kagran (Line 25 - 0.9 km)
05 Oct 2013: Kagraner Platz - Hausfeldstraße (Line 26 - 4.6 km)
28 Feb 2014: [X] Alaudagasse - Oberlaa taken out of service due to U1 extension (Line 67: -2.4 km)
02 Sept 2017: [X] Reumannplatz - Alaudagasse taken out of service due to U1 extension (Line 67: -2.5 km)
02 Dec 2019: Line D Hauptbahnhof Ost - Absberggasse (1.1 km)
03 Oct 2020: Line O Nordbahnstraße - Bruno-Marek-Allee (0.8 km)