Brussels, the capital of Belgium, is also one of the official capitals of the European Union with most institutions having their headquarters here. The city (about 1 million inh.) is right in the centre of the country and bilingual: French and Dutch, and therefore many station names are also bilingual.
The Brussels Métro started as a pré-métro system which could be compared to German Stadtbahn systems (Cologne, Stuttgart, Essen, Hannover, etc.) with important sections of underground tunnels used by various tram routes. In 1969, the first tram tunnel along today's line 1 was opened between Schuman and De Brouckère, and in 1970 today's line 2 between Madou and Porte de Namur. Today lines 1, 2, 5 and 6 are operated as full metro lines, whereas the north-south city tunnel and the outer ring tunnel in the east are still used by trams stopping at low-level platforms.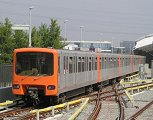 In Sept. 2003, a 2.7 km extension of Line 1B from Bizet to Erasme Hospital opened with 4 new stations: La Roue/Het Rad, CERIA/COOVI, Eddy Merckx and Erasme/Erasmus. The last 800 m and Erasme/Erasmus station are on the surface. All stations have an island platform which is directly accessible from street level without a mezzanine.
On 4 April 2009, the ring line was finally completed with the opening of the section between Delacroix and Gare de l'Ouest (Weststation). At the same time the existing network was re-arranged, introducing lines 5 and 6:
Line 1: Gare de l'Ouest - Stockel
Line 2: Elisabeth* - Simonis: actually only reinforcing line 6
Line 5: Erasme - Herrmann-Debroux
Line 6: Roi Baudouin - Simonis* - Gare de l'Ouest - Gare du Midi - Elisabeth*
The Brussels Metro is operated by STIB/MIVB (Societé des Transports Intercommunaux de Bruxelles) also responsible for a tram network 133 km long (12 km of which are in tunnels).
* To avoid confusion, the bi-level station Simonis/Elisabeth was given separate names in Nov. 2013; originally, both levels were just called 'Simonis', then in 2009, the upper (north-south) level received the appendage 'Leopold II', while the lower level, terminus for lines 2 and 6, was complemented with 'Elisabeth'.