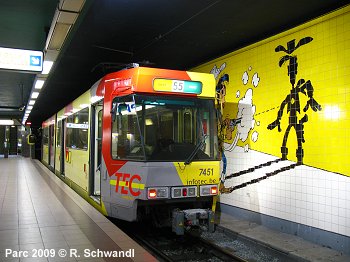 Charleroi lies some 70 km south of Brussels in the French-speaking part of Belgium and has some 550,000 inhabitants in the metropolitan area.
The Charleroi Metro is a typical prémétro network, i.e. trams that run underground in the city centre and on viaducts or separate right-of-way through outer parts (similar to German Stadtbahn systems). In the 1970's a large network (52 km with 69 stations) was planned to be finished by the mid-1990's. Starting from a loop around the city centre, 8 branches were to cover the entire metropolitan area of Charleroi. But due to unknown problems, construction was suspended leaving a rather unfinished network, although in 2012, the city centre circle was completed and in 2013, a tram-like leg to Gosselies was added.
A first section was taken into service in 1983 (Sud - Beaux-Arts - Dampremy). Until 2011, a 25-km network was served by 4 tram routes (54, 55, 88, 89). With the completion of the central loop (0.9 km) and the extension to Soleilmont (1.8 km) in February 2012, the then 28-km network was restructured:
M1: Anderlues - Charleroi (anti-clockwise loop)
M2: Anderlues - Charleroi (clockwise loop)
M3: Gosselies - Charleroi (clockwise loop) - opened in 2013
M4: Soleilmont - Charleroi (anti-clockwise loop)
After the completion of the tram-like Gosselies branch (7.2 km), the total length of the network is approx. 35 km. There are 22 full metro stations, of which 12 are underground. There are underground loops at Beaux Arts and Waterloo, the latter being used by outbound line M4 trains during normal service.
The 'métro léger' (light metro) is operated by TEC, a company responsible for all public transport in Wallonie, the French-speaking part of Belgium.