STADTBAHN
Germany's former capital has only about 300,000 inhabitants, but obviously due to its political importance it had the chance to build an underground Stadtbahn route all across the city and further south to Bad Godesberg. Although operated by its own company, Bonner Stadtwerke, the system actually works as an extension of the large Cologne Stadtbahn network with two lines, 16 and 18, connecting both cities along an interurban route, which in the case of line 18 is partly single-track. In Bonn itself the city subway is also used by Bonn exclusive routes 63-68. There are two tunnel sections, a 3.2 km subway through central Bonn with 6 stations and a 1.1 km subway in Bad Godesberg (4 stations), a southern suburb of Bonn, plus two short underground sections including Ramersdorf station on the right bank of the River Rhine, and Robert-Schuman-Platz on the left bank.
In August 1999, most ministries of the German Federal Government moved their headquarters to Berlin. As a consequence some stations changed their name, like Auswärtiges Amt (Foreign Ministry) which is now Bundesrechnungshof/ A. Amt.
---
TRAMWAY
Besides the Stadtbahn, there are two all-day tramway lines operating with low-floor trams. Between Ramersdorf and Oberkassel Süd, as well as across the Kennedybrücke, tramway and Stadtbahn share the same tracks.
Tramway network length: 15.7 km (2.4 km share with Stadtbahn)
Lines: 2
Track gauge: 1435 mm
Rolling stock: DUEWAG low-floor R1.1 cars (1994)
See tramway photos below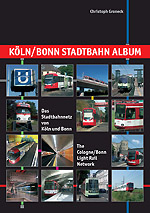 Christoph Groneck:
Köln/Bonn Stadtbahn Album
The Cologne/Bonn Light Rail Network
Nahverkehr in Deutschland, Band 6
Urban Transport in Germany, Vol. 6
144 Seiten | pages
17x24 cm
3 Netzpläne | 3 Network maps
ca. 350 Farbfotos | colour photos
Text deutsch & English
ISBN 3 936573 07 7
19.50 EUR
Published December 2005
More info and sample pages | Mehr Info und Probeseiten
---
Our books about Urban Rail in Germany

Robert Schwandl:

- June 2019, Berlin, ISBN 978 3 836573 60 2.

- Detailed colour maps for more than 50 German tramway cities, illustrated with numerous photos

- Text German and English

Robert Schwandl:

- Feb 2019, Berlin, ISBN 978 3 836573 57 2

- Anything you need to know about German metro and light rail systems with underground sections, with detailed maps and hundreds of colour photos; 160 pages; Text German and English - More details