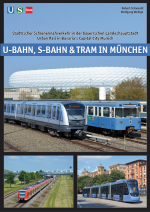 Robert Schwandl & Wolfgang Wellige:
U-BAHN, S-BAHN & TRAM IN MÜNCHEN
Urban Rail in the Bavarian Capital
- Nov 2021, Berlin, ISBN 978 3 836573 65 7
- In der bayerischen Landeshauptstadt betreibt die MVG ein modernes U-Bahn-Netz mit drei Stammstrecken durch die Innen­stadt sowie ein klassisches Straßenbahnnetz, das in den letzten Jahren wieder etwas erweitert wurde. Dazu kommt ein von der Deutschen Bahn betriebenes S-Bahn-Netz, das die Region mit der Stadt München verbindet. Das Zusammen­spiel dieser drei Schienenverkehrsmittel platziert München ganz oben in der Liste der europäischen Städte mit dem ­besten ÖPNV. Wie gewohnt ist das Buch mit unzähligen Fotos, darunter zahreiche historische Aufnahmen, sowie detaillierten Netzplänen illustriert. Außerdem werden alle aktuellen Fahrzeugtypen sämtlicher Bahnen vorgestellt.
- In the Bavarian capital, the MVG operates a modern U-Bahn system with three trunk routes through the inner city, plus a classic tram system, which has been slightly expanded in recent years. These two urban rail systems are complemented by an S-Bahn network run by Deutsche Bahn, which provides a link between the region and the city of Munich. The combination and interaction of these three urban rail systems places Munich at the top of the list of European cities with the best public transport. As always, this book includes numerous photos, many of them historic views, as well as detailed network maps and useful information about all the current rolling stock.
- Text German and English