Trinitat Nova

27-10-1999

Neighbourhood on the western side of the Meridiana Avenue, which separates it from Trinitat Vella (see Line 1). Station originally built for L4, now shared between L4 and L11, the latter using the northern track. Transfer to L3 added in 2008.

Casa de l'Aigua

14-12-2003

Torre Baró
Vallbona

14-12-2003

Initially partly uncovered station, now covered with translucent roof.

Ciutat Meridiana

14-12-2003

Like the other stations originally without platform screen doors, now with them.

Can Cuiàs

14-12-2003
Special Features of Line L11:
Total length: 2.1 km, 5 stations
European standard track gauge of 1435 mm
Operated by TMB, with 2-car trains of class 2000.
Single-track line except for a passing loop at Torre Baró-Vallbona station. Retrofitted with platform screen doors for driverless operation between Casa de les Aigües and Can Cuiàs.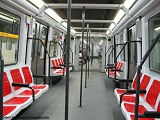 ---
2008 © UrbanRail.Net (Robert Schwandl)