Granada is the third city in Andalusia, after Seville and Málaga, where a tram with underground sections (metro ligero) is under construction. The metropolitan area has a population of approx. 470,000.
The "Tranvía Metropolitano" will have a total length of 15.9 km and 26 stops. It will run like a modern tram line (separate right-of-way with level crossings) on its outer sections, linking the suburbs of Albolote and Maracena in the north to Campus de la Salud and Armilla in the south.
In the city centre, there will be a 2.7 km cut-and-cover tunnel along Camino de Ronda between Méndez Núñez and Alcázar Genil. This section will include three underground stations:
1) Méndez Núñez, between Martínez de la Rosa and Maestro Cebrián roads;
2) Recogidas, located between Azorín and Jerez roads;
3) Alcázar Genil, between Ribera del Violón and Adelfa, on the south side of the Genil River.
Construction on the surface routes started in 2007, with tunnel construction launched in 2008.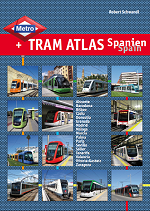 Robert Schwandl:
NEW: METRO & TRAM ATLAS Spanien | Spain
Alicante, Barcelona, Bilbao, Cádiz, Donostia/San Sebastián, Granada, Madrid, Málaga, Murcia, Palma, Parla, Sevilla, Sóller, Tenerife, Valencia, Vitoria-Gasteiz, Zaragoza

Numerous colour images, detailed network maps, Text deutsch/English, ISBN 978 3 936573 46 6, Sept. 2015, EUR 19.50