Thessaloniki is Greece's second largest city and the centre, both touristic and industrial, of Northern Greece.
Construction for Line 1 of the Thessaloniki Metro started in spring 1999 to enter regular service in 2006. The city chose a fully automated system provided by a consortium formed by Bombardier, Bouygues and other companies. The line was to be 9.4 km long, totally underground and have 14 stations spread along the harbour bay.
The 36 light rail vehilcles are based on the Dockland Light Rail vehicles, but will obviously be equipped with air-conditioning.
Repeated reports tell us that until spring 2003, construction hadn't really started. So the whole project was postponed again and again. The celebration of the Expo 2008 might give the project the final kick-off.
In Aug. 2003, the project was suspended due to a lack of agreement with Bombardier.
In Aug. 2005, Public Works Minister Giorgos Souflias said the 800-million-euro tender to build the 9-km line with 13 stations had been awarded to a Greek-Italian consortium, headed by domestic firm AEGEK, which would begin work as soon as the legal paperwork had been completed. Souflias said it was possible that other bidders might appeal against the award.
March 2006: Long-awaited Thessaloniki metro works to begin in May Construction work to build a long-proposed metro system in the northern city of Thessaloniki will begin in May after whatever obstacles in a tender procedure have been cleared up by the European Union, Public Works Minister George Souflias said on Monday. Speaking to reporters, the minister said the project was expected to be ready in 2012. It will feature 9.5 km of lines with 13 stations.
7 April 2006: Contract signed between Attiko Metro and Ansaldobreda/Ansaldo STS.
28 July 2006: Excavation with TBMs starts in the west of the city near new central station.
Oct 2013: Due to the continuing financial crisis in Greece and archeological finds in the areas of Venizelou and, Aghia Sofia stations, the opening of the metro will not happen before the end of 2016.
Feb 2017: After completion of the first of two tube tunnels, an opening date was announced for 2020.
... to be continued ...
View metro line on city map (311K):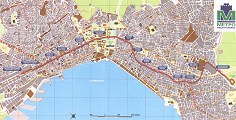 © Thessaloniki Metro SA