In Dec. 2009, the former Calandlijn became lines A, B and C. Until November 2002, all Calandlijn (east-west line) trains had their western terminus at Marconiplein, in the west of Rotterdam. The route runs underground and parallel to the river towards the city centre, where interchange to the Erasmuslijn is provided at Beurs (formerly Churchillplein). At Blaak, an underground station was also built for NS local trains to Dordrecht. The east-west tunnel terminates at the western end of Kralingse Zoom station, from where trains continue eastwards on the surface.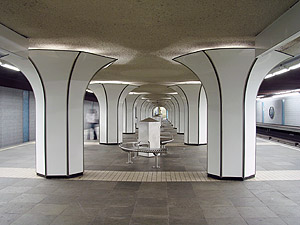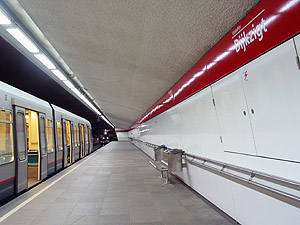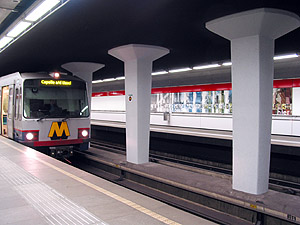 Marconiplein | Dijkzigt | Beurs
Leaving Capelsebrug, trains heading for 'Ommoord' or 'Nesselande' lift up their pantograph while the train is in motion to switch to Sneltram mode, whereas those going to 'Capelle a/d IJssel' continue with third rail power supply. The 8.4 km Sneltram section is totally segregated from other traffic, mostly fenced with hedges, but with several level crossings. All three eastern branches of the Calandlijn operate every 10 minutes, which allows a 3-4 minute interval along the main section. The northeastern branch, which initially terminated at De Tochten (showing 'Zevenkamp' on the destination sign), was extended mainly on a viaduct to Nesselande (1.5 km) in August 2005,. This section has no level crossings and instead of using an overhead catenary the trains switch back to third rail power supply.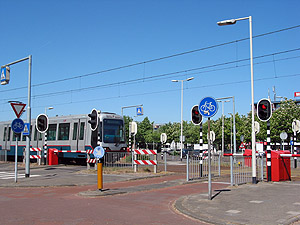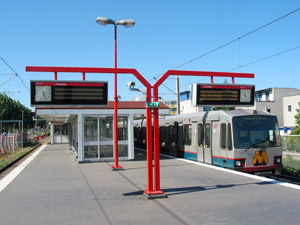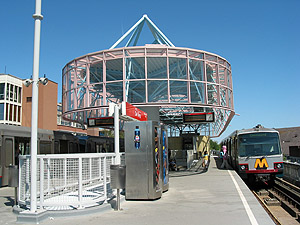 Nieuw Verlaat | De Tochten | De Terp
A 12 km extension of the Calandlijn line towards the west (partly underground through Schiedam) and then under the river Nieuwe Maas (Benelux-Tunnel) to meet the north-south line at Tussenwater opened on 4 November 2002. Although initially promoted as the Beneluxlijn, the line operates as an extension of the Calandlijn serving the Tussenwater - De Akkers section together with the Erasmuslijn. Calandlijn trains from Spijkenisse run through on the eastern branch to Capelle a/d IJssel.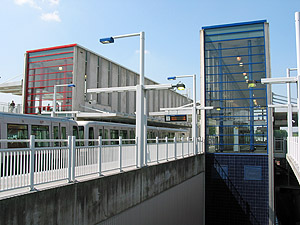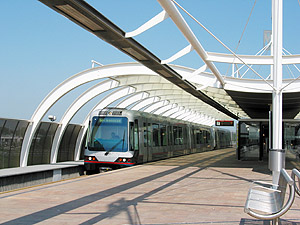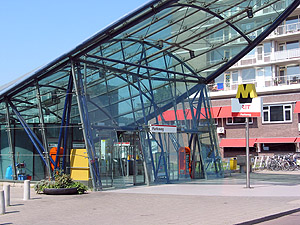 Tussenwater | Vijfsluizen | Parkweg
In 2017, the railway line from Schiedam to Hoek van Holland (23 km) was handed over to RET to be converted to metro operation and linked to the east-west metro line. Through service on line B, though with limited service, eventually started in late Sept 2019. A 2 km single-track extension to Hoek van Holland Strand (including a new station at Hoek van Holland Haven) was completed in March 2023.
[Project Website]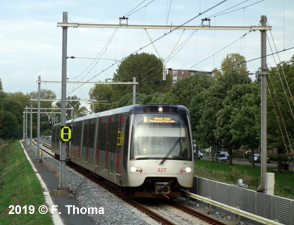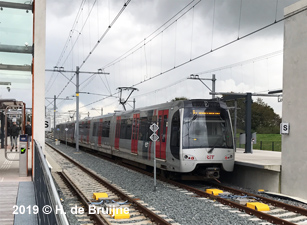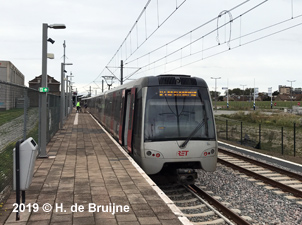 Schiedam Nieuwland | Steendijkpolder | Hoek van Holland Haven