Toruń (Wojewˇdztwo kujawsko-pomorskie) - 206,000 inh.
Tramway
- 1000 mm
- 22.5 km
- 5 lines
24 June 2014: Sienkiewicza - Uniwersytet and Al. Solidarnosci link
- 5.5 km extension to JAR to be built by 2023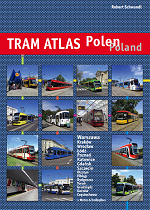 Robert Schwandl's
TRAM ATLAS POLAND
In Poland, numerous first-generation tram systems have survived, including the large networks in Warsaw, Kraków, Poznan, Lodz, Wroclaw and the trams in the Upper Silesian industrial area around Katowice. In Olsztyn, a completely new system opened in 2015. This book covers all the Polish cities which have trams as well as the three cities with trolleybuses. The country's only metro system, that in the capital Warsaw, is included too.The book is illustrated with detailed network maps, and hundreds of colour photographs of almost all the current rolling stock and numerous metro stations
10/2017, Text deutsch/English, ISBN 978 3 936573 50 3, EUR 19.50 - For more info & sample pages click here!