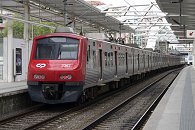 CP - Comboios Urbanos
Caminhos de Ferro Portugueses (Portuguese Railways) operates a suburban service on 3 main routes:
Linha de Sintra (from Lisboa-Rossio via Benfica to Sintra; Oriente - Mira Sintra/Meleças; Alverca - Oriente - Sintra weekday peak times)
Linha de Cascais (from Lisboa-Cais do Sodré via Belém to Cascais)
Linha de Azambuja (Alcantara Terra - Azambuja; Santa Apolonia - Castanheira do Ribatejo: weekdays daytime only)
Linha do Sado (on south bank of Tagus River from Barreiro to Setúbal and Praias do Sado)
More about

---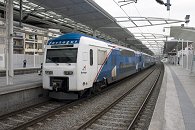 FERTAGUS
Since July 1999, a new rail link across the Ponte 25 de Abril (Tagus bridge) has been operated by FERTAGUS between Roma-Areeiro and Fogueteiro on the south bank with trains every 10-20 minutes. On 6 October 2004, Fertagus extended the suburban railway service from Fogueteiro to Setúbal (hourly).
More about

Unfortunately adjacent metro and rail stations do not always have the same name:
CP station Rossio is served by Metro Restauradores (not Rossio)
CP station Sete Rios is served by Jardim Zoológico (renamed from Sete Rios!)
---
Eléctricos (Trams)
Lisbon is famous for its old-style tram lines that serve the hilly neighborhoods of Alfama and Chiado (lines 12 and 28) but only a few lines of the once large tram network are left over. Line 15 to Belém is served by modern low floor trams.
More about Lisbon's

---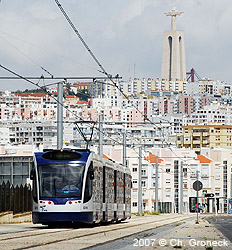 Oeiras Mini-Metro
A new transportation system opened on 7 June 2004 in the municipality of Oeiras, west of Lisbon. The system called SATU (for Sistema Automático de Transportes Urbanos de Oeiras) was similar to a monorail but with wheels. It started from Paço de Arcos station on the CP Cascais suburban line. It used to have 3 stations (Navegantes - at the CP station, Tapada and Fórum) and was once planned to be extended to Lagoas Park and Tagus Park. However, service was discontinued on 31 May 2015.
---
Metro do Sul do Tejo
On the south shore of the Tagus River, a light rail network operating mostly on separate right-of-way was built. The first section from Corroios to Cova da Piedade opened on 30 April 2007. The western branch from Cova da Piedade to Universidade was brought into service on 15 Dec 2007, and the system was completed on 27 Nov 2008 with the opening of the Cacilhas leg through the Almada town centre.
More about