Novosibirsk (1903-1925 - Novo-Nikolaevsk) was founded in 1893 as a transfer station on Transsiberian railway and only 70 years later it reached 1 million inhabitants. With 1.47 million inhabitants it is the largest city in Siberia.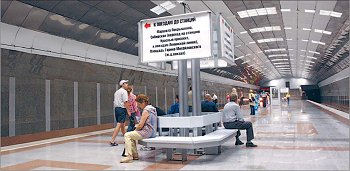 Initially a metro network with 4 lines totalling 62 km was planned for Novosibirsk. Construction started in 1979 on the north-south route, the Leninskaya Liniya. The metro had to be built for hard weather conditions, down to -50 degrees Celsius in winter, and to resist earthquakes up to magnitude 6 on the Richter scale. Most tunnel sections were built using tunnel boring machines. The first section, which links the districts on the western side of the river Ob to the city centre, opened in 1986. One year later a short shuttle line was taken into service, which provides access to the central railway station at Ploshchad' Garina Mikhailovskogo*. In the early 1990's the first line was extended both towards the north and the south.
In 2000, the second line, the Dzerzhinskaya Liniya began operating to Marshala Pokryshkina. When it was extended to Beryozovaya Roshcha (see photo) in June 2005, this line was operated with two shuttle services, one between Pl. Garina-Mikhailovskogo and Sibirskaya, and another between Sibirskaya and Beryozovaya Roshcha. On 23 June 2007, the second tunnel between Marshala Pokryshkina and Beryozovaya Roshcha was brought into service, and the line now works normally. As of now, the 1-station extension to Zolotaya Niva added in Oct 2010 is partly single-track, with only one track being used at the new terminus.
Total length (2011) - 15.9 km with 13 stations.
* This station is named after the Russian writer Nikolay Garin-Mikhaylovskiy, one of the founders of Novo-Nikolaevsk (now Novosibirsk).