Kryvyi Rih (Krivoy Rog in Russian) lies just southwest of Dnipropetrovs'k in southern Ukraine. The city has some 700,000 inhabitants and is an important industrial centre in the Kryvyi Rih iron basin.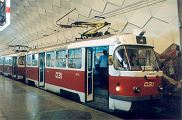 After Volgograd, Kryvyi Rih was the second city in the former USSR to build a partly underground rapid tram line (Shvydkisnyi Tramvai - ShT). The system had been under construction since 1974, and the first stage opened on 26 December 1986. The second stage with four stations north to Zarichna followed on 25 October 1999.
In May 2012, the rapid tram line was integrated with the urban tram network by building a link at the former southern terminus Kil'tseva. Trams now continue south for approx. 1 km on urban tram tracks to terminate at Kil'tse KMK, now also providing convenient transfer to tram lines on the east-west route.
The total length of the fully segregated section is 17.7 km with 11 stations. 6.8 km is underground with 4 stations, which are built to full metro standard.
On the rapid tram route, two lines are operated. Line 1 runs from Kil'tse KMK to Maidan Pratsi, and Line 2 from Kil'tse KMK to Zarichna.
The express tram line has its own yard close to Maidan Pratsi station. At both ends of the line there are loops. The gauge is 1520 mm. The rolling stock used are Tatra T3, KTM-11/11T. The ShT is operated by Krivorozhelektrotrans.