Can Zam

13-12-2009

Singuerlín

13-12-2009

Església Major

13-12-2009

Fondo

13-12-2009

Photos © DavoR (12 June 2009)

Santa Rosa

19-09-2011

Can Peixauet

---

13-12-2009

Gorg

18-04-2010

La Salut

18-04-2010

Llefià

---

18-04-2010




Bon Pastor

18-04-2010

Onze de Setembre

26-06-2010

Sagrera-Estació

? Pending completion of mainline railway station

La Sagrera

26-06-2010
Click here for L9 Sud!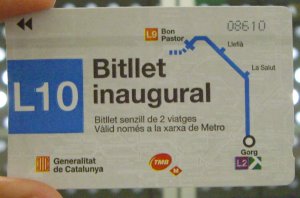 Special Features of Line L9/L10 Nord:
Total length (in operation): 10.1 km, 11 stations (L9 Nord & L10)
European standard track gauge of 1435 mm
Operated in driverless mode
Eventually Line 9/10 will run like a semicircular line from the Airport and Passeig de la Zona Franca to Zona UniversitÓria, further on to SarriÓ and Lesseps and via Guinardˇ and Sagrera-Meridiana to the planned Sagrera AVE Railway Station. Then north to Bon Pastor and under the Bes˛s river splitting into two branches, one to Santa Coloma (Can Zam) and one to Badalona (Gorg - L2). Construction from Sagrera-Meridiana (L1, L5) north to Can Zam and Gorg began in late 2001. L9/10 is being excavated by tunnel boring machines at great depth, with a 12 m diameter tunnel, which allows trains to run on top of each other. Most stations will be located inside this tunnel and be accessible by lifts. The line is operated in driverless mode and the stations are therefore equipped with platform screen doors. The Zona Franca leg in the south will be elevated. The project has repeatedly been modified, especially in the airport area. The first section of this 46.6 km long line was due to open in 2005 from Fondo to Can Zam, but was only brought into service in Dec. 2009, with the second of the two northern branches following in 2010. The isolated L9 Sud began operation in Feb. 2016, followed by the first section of L10 Sud in Sept 2018.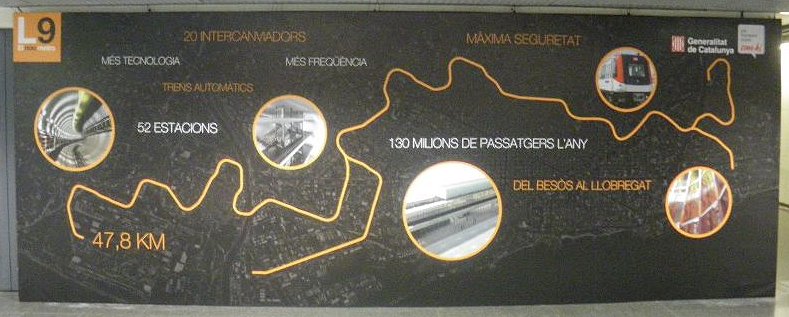 Photo © DavoR
---
2009 © UrbanRail.Net (Robert Schwandl)