On 3 April 2004, tramways came back to Barcelona after the last old-style trams (except the vintage Tramvia Blau) were closed down in 1971. The current network consists of two separate systems: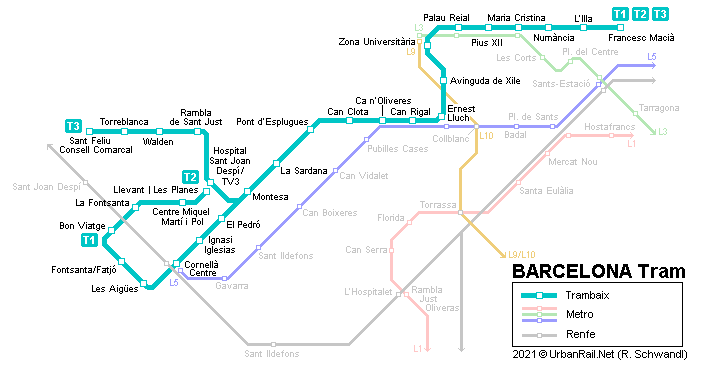 This tram system links Barcelona (Plaça Francesc Macià) to several towns in the Baix Llobregat county, such as Esplugues, Cornellà, Sant Just Desvern and Sant Joan Despí. This system consists of 3 lines, which share a common stretch from Francesc Macià to Montesa in Esplugues, where T3 branches off towards Sant Feliu. The extension from Hospital de Sant Joan Despí/TV3 (formerly Sant Martí de l'Erm to Torreblanca (formerly Consell Comarcal) opened on 5 Jan 2006. A 1-stop extension to Sant Feliu/Consell Comarcal was added on 21 April 2007.
T1 is actually only a shortened version of T2, both lines running to Cornellà Centre (with an underground station under the Renfe tracks and next to the L5 metro station) and further on to Bon Viatge in Sant Joan Despí, terminus for T1. T2 continues from there on a single-track alignment for another 3 stops to Llevant/Les Planes (formerly Sant Martí de l'Erm). The total length of the Trambaix network is 14.8 km.

Trambesòs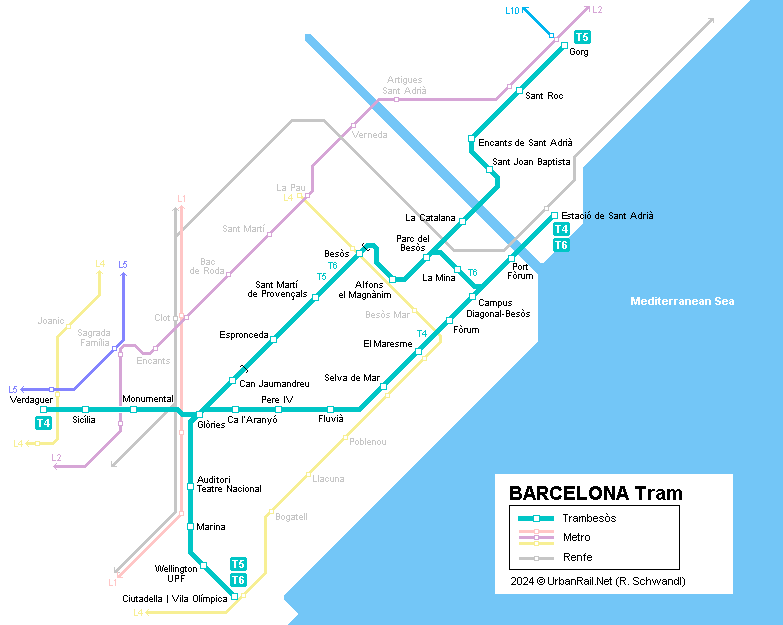 The second tram system, opened on 8 May 2004 to provide service during the 'Fòrum de les Cultures', initially ran from Glòries (L1) to Renfe's station at St. Adrià de Besòs, being extended in July 2004 to Ciutadella/Vila Olímpica (L4).
A second line, T5, was added in 2006. It initially ran from Glòries to Besòs (L4), partly 'underground', in a covered trench and separated from a motorway by a wall. Four new stops up to Sant Joan Baptista were added on 6 May 2007, with the extension to Gorg (L2, L10) following on 8 Sept 2007.
The Trambesòs system was completed on 16 June 2008, when the link along Rambla de la Mina opened and line T6 was established. The total length of the Trambesòs network is 13.8 km.
---
Both systems are mostly on separate right-of-way with numerous road intersections. Trams used are of the Citadis 302 type built by Alstom. 41 bi-directional, 100% low-floor vehicles were delivered. The fully air-conditioning trainsets are 32.3 m long and 2.65 m (!) wide.
All photos © R. Schwandl (UrbanRail.Net)
---
Tram Barcelona (Official Site)
Trambaix and Trambesòs at Wikipedia.es
-------
Barcelona Metro on UrbanRail.Net
---