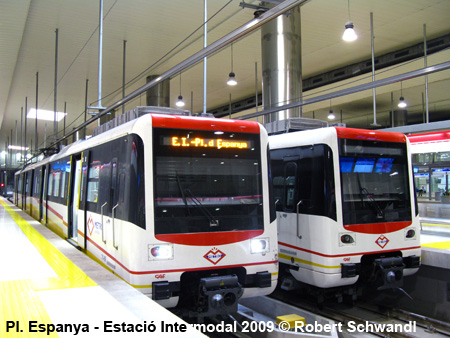 In Nov. 2004, a metro line was proposed for Palma de Mallorca. It runs from the city centre to the University campus (UIB - Universitat de les Illes Balears). It starts underground at the rebuilt railway terminal at Plaça d'Espanya and runs parallel to the existing railway to Inca, which was put underground up to Son Costa-Son Fortesa at the same time.
The construction of the 8.3 km metro line began in January 2005. The line is mostly underground (average 8 m deep) except for a 2.6 km stretch including Son Sardina station. The tunnel from Plaça d'Espanya to Son Costa-Son Fortesa is 4-track, with separate tracks for the Metro and for the diesel-operated Inca line. The covered railway corridor has been converted into a 1.8 km long park. Stations are designed with 80 m long and 5 m wide side platforms.
In Sept. 2006, the Inca line was cut back to a temporary terminus at J. Verdaguer to allow for the construction of the intermodal station at Plaça d'Espanya, which includes 10 tracks with 5 island platforms on level -2. Adjacent to the railway station there is a bus terminal, also on level -2, and a car deck on level -3.
The rolling stock ordered from CAF for line M1 consists of six double-units of class 71, each 33 m long and 2.55 m wide. Power supply is via an overhead wire. Like on the existing Mallorca railways the track gauge is 1000 mm. Platform height is 1.1 m. The metro operator is Servicios Ferroviarios de Mallorca (SFM).
In March 2013, line M2 was introduced as an urban service running every 20 minutes between Pl. d'Espanya and Marratxí sharing the regional line to Inca, but since May 2022, all services are integrated with the regional lines T1 (Inca), T2 (Sa Pobla) and T3 (Manacor). These services use Class 81 EMUs from CAF.