The capital of Poland, Warsaw (Warszawa), has about 1.6 million inhabitants. While the city only has two metro lines, it maintains a large tram network plus the WKD, an interurban light rail line.
- network length approx. 127 km
- 32 lines
- 1435 mm gauge
21-01-2013: Zajezdnia Zoliborz - Stare Swidry (Line 2)
24-12-2014: Stare Swidry - Tarchomin Koscielny (Line 2 - 2.2 km)
14-02-2015: Bemowo Ratusz - Radiowa (Line 11 - 1.5 km)
27-02-2017: Mehoffera - Nowodwory (Line 2 - 1.3 km)
04-09-2021: Nowodwory – Winnica (Lines 2/17 - 1.2 km)
WKD (Warszawska Kolej Dojazdowa) is a light rail line, opened in 1925, which runs partly in tunnel in the city centre (parallel to PKP rail tracks) and then out to the western suburbs. This was the first electrified railway line in Poland and is 33 km long. Its city terminus Śródmieście WKD is located next to the Central Railway Station.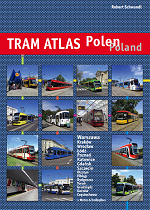 Robert Schwandl's
TRAM ATLAS POLAND
In Poland, numerous first-generation tram systems have survived, including the large networks in Warsaw, Kraków, Poznan, Lodz, Wroclaw and the trams in the Upper Silesian industrial area around Katowice. In Olsztyn, a completely new system opened in 2015. This book covers all the Polish cities which have trams as well as the three cities with trolleybuses. The country's only metro system, that in the capital Warsaw, is included too.The book is illustrated with detailed network maps, and hundreds of colour photographs of almost all the current rolling stock and numerous metro stations
10/2017, Text deutsch/English, ISBN 978 3 936573 50 3, EUR 19.50 - For more info & sample pages click here!