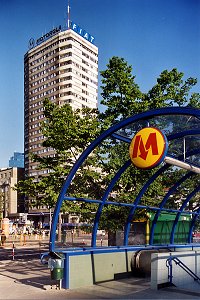 Line 1 opened in April 1995 between its southern terminus Kabaty and Politechnika (11.5 km, all underground). On 26 May 1998 Centrum station was inaugurated as the largest station on the line, situated just north of an east-west railway tunnel built in the 1930's and close to the city's main railway station. Between Politechnika and Centrum another station called Plac Konstytucji was planned and might be built later to provide transfer to the future Line 3. An extension towards the north with two stations opened on 11 May 2001 - Świętokrzyska (now interchange with Line 2) and Ratusz (1.7 km). Initially Russian-built rolling stock (60 cars of 81-series, identical to those operating in Moscow, Prague, St. Petersburg, etc.) was bought, but in spring 1998 more than 108 new cars were ordered from GEC Alsthom. The first new cars were delivered in Oct. 2000.
The first section of the first metro line, from Kabaty to Wilanowska was built by the cut-and-cover method, the so-called Berlin Method. The section through the city centre was built using a tunnel boring machine for two 5.5m single-track tunnels.
Gradually the line was extended further north, in 2003 to Dworzec Gdański, in 2005 to Plac Wilsona, in 2006 to Marymont and in 2008 to Słodowiec. Eventually it reached Młociny in the north of the city in Oct 2008, with two intermediate stations: Stare Bielany, Wawrzyszew and Młociny. The last 4 stations were built with 4.5 m wide side platforms. Tunnels along the northern section were realised by the cut-and-cover method. The terminus Młociny is a major interchange hub, with facilities for park and ride, transfer to existing tram and bus lines, as well as a new 'fast tram' which will cross the river along a new bridge to the Tarchomin district.
Initially two more stations, Plac Konstytucji (between Politechnika and Centrum), and Muranów (between Ratusz and Dworzec Gdański) were planned but shelved for financial reasons.
The current length of the line is 22.6 km with 21 stations (10/2008).
07 April 1995: Kabaty - Politechnika (11.5 km)
26 May 1998: Politechnika - Centrum (1.5 km)
11 May 2001: Centrum - Ratusz (1.7 km)
20 Dec 2003: Ratusz - Dworzec Gdański (1.5 km)
08 Apr 2005: Dworzec Gdański - Plac Wilsona (1.5 km)
29 Dec 2006: Plac Wilsona - Marymont (0.9 km - shuttle service only)
20 Mar 2008: Plac Wilsona - Marymont (normal service)
23 Apr 2008: Marymont - Słodowiec (1.0 km)
25 Oct 2008: Słodowiec - Młociny (3.0 km)